London Rd. Sale March 24-25!
Fantastic moving sale! Sat-Sun, March 24-25, 9am-4pm
4824 London Rd. facing Lake Superior. Follow our signs.
at Summer Cottage built in 1928 for the Congdons!
Former teachers and collectors of many interesting things…

Framed art incl. Van Ryzin, prints and framing supplies, antique nature and political prints, Alaska and sled dog collectibles, stamps, military, telescope and spotter scope, hunting guns, fishing, old baseballs & photos, tools, custom made chairs (some qualify as pop art), antique dolls, doll furniture miniatures, oil lamps, many silver plate serving pieces, tea cups including Beleek and Royal Albert, blue and white dishes (old and new), pottery, Quimper, china including Copeland Spode "Rose Briar" and Noritake, beautiful glassware (everything from milk white hobnail to Waterford Stemware and art glass), antique silver plate and glass liquor caddy, wine stoppers, old enamelware, Griswold, Red Wing crocks, cheese boxes, Hudson blankets and quilts, Longaberger and other baskets, loads of jewelry, beading, buttons, scrap booking and tons of craft items, nice sewing machine and quilting, many quilts, needlework and beautiful linens, Christmas, miniature shoe collection, pretty storage boxes, old trunks, loads of books (some "coffee table books", plus children's, Alaska, local interest and political), movies, lots of other fun and useful items.
Large wardrobe, Windsor chair by Stickley, painted dining table, red dining chairs, tea table, antique desk, old secretary, dresser, cupboards, sleeper sofa, wonderful Ojibwe-inspired floral area rug (8×10), Scandinavian and other rugs, antique fireplace tools, mirrors, clocks, interesting metal magazine rack, lighting, wicker furniture including newer white table, settee and chairs, and green wicker (old and new chairs), old bird cage, lots of fun cushions and pillows, wonderful panel room dividers, mink and other fur coats and accessories, 32″ TV, Sony stereo, Bose speakers, CDs and tapes, cameras, vacuum cleaners, old appliances including mixer and percolator, newish appliances including gas Amana dryer, espresso machine, food processor, microwave, toaster oven, crock pot, household items, storage racks, bins, freestanding room fan, plants, 2 garages of stuff…Ariens & Toro snowblowers, lawn mower, yard and garden tools and decor, shelving, tools primitives.
And a car!  2004 Ford Focus, only 78K miles, good runner, new brakes.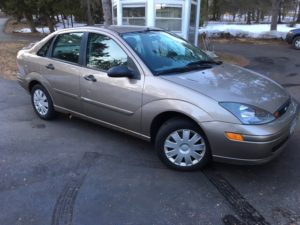 We look forward to seeing you! Check back for more updates. See below for pictures…